Role Play Area: Land of Equestria Role Play
------------------
Name: (Full Name): Eboloncinni Rectule Ferenden Kilkerex Slickscale
(Nickname): Ebby
------------------
Sex: Male.
------------------
Age: Hatchling.
(Could also be found RP wise as an Egg.)
Species: Dragon.
------------------
Eye Color: A Deep Swirling Golden that seems to shimmer, sparkle and glow with the hues of golden Coins.
Scale Color: A beautiful shimmering pure Ebony Black for his Main Body Scales and a wondrous glittering Ruby Red for his Marking and Feet Scales.
Head/Neck Mane Color: Red.
Back/Tail/Ankle Mane Color: Red.
Markings: Circles and Stripes.
Marking Color: Red.
------------------
Breath: Fire.
------------------
Physique: Lean, Strong and rather Elegant looking.
------------------
Residence: Close to the Remains of his Egg Shell in Everfree Forrest.
------------------
Occupation: Not Applicable.
------------------
Personality: He is very Independent and Playful, very a deep running streak of being rather Spirited.
------------------
History:
In the first rays of the new dawn, deep in Everfree forest, an Egg shakes for a few moments before a crack appears in the delicate Shell. Shortly after that, the Egg breaks open to reveal the head of a beautiful Ebony Dragon with Ruby Red markings. The young Creature blinks in the bright light, writhing and wriggling his way out of his shell. His Mane and Ankle fur all Ruby Red, matching his Markings, flutter in the slight Breeze as he struggles to stand. He gains his balance, then cautiously takes his first steps in the world. Turning around to stare in wonder, taking in all the beauty of the Forest, he spots something on his Egg-Shell.. a name... His name. Though he would not know this until he was quite a bit older.
He was left in the woods, more or less dropped by a complete accident, when the Brooding Mother had flown over on her way to a safe place to make her Nest. Normally very watchful, this Mother was a great deal tired, having flown for days upon no end to find a good home for her and her little Eggs, and unfortunately did not notice when her Egg slipped from her loving talons and into the branches of the trees, which it slipped and rolled down until it reached the ground, where he later hatched. As he would not be given the regular things a Dragon in the care of its Mother would, he would remain rather small, until, if ever, he would learn what it meant to be greedy.
------------------
How He Looks: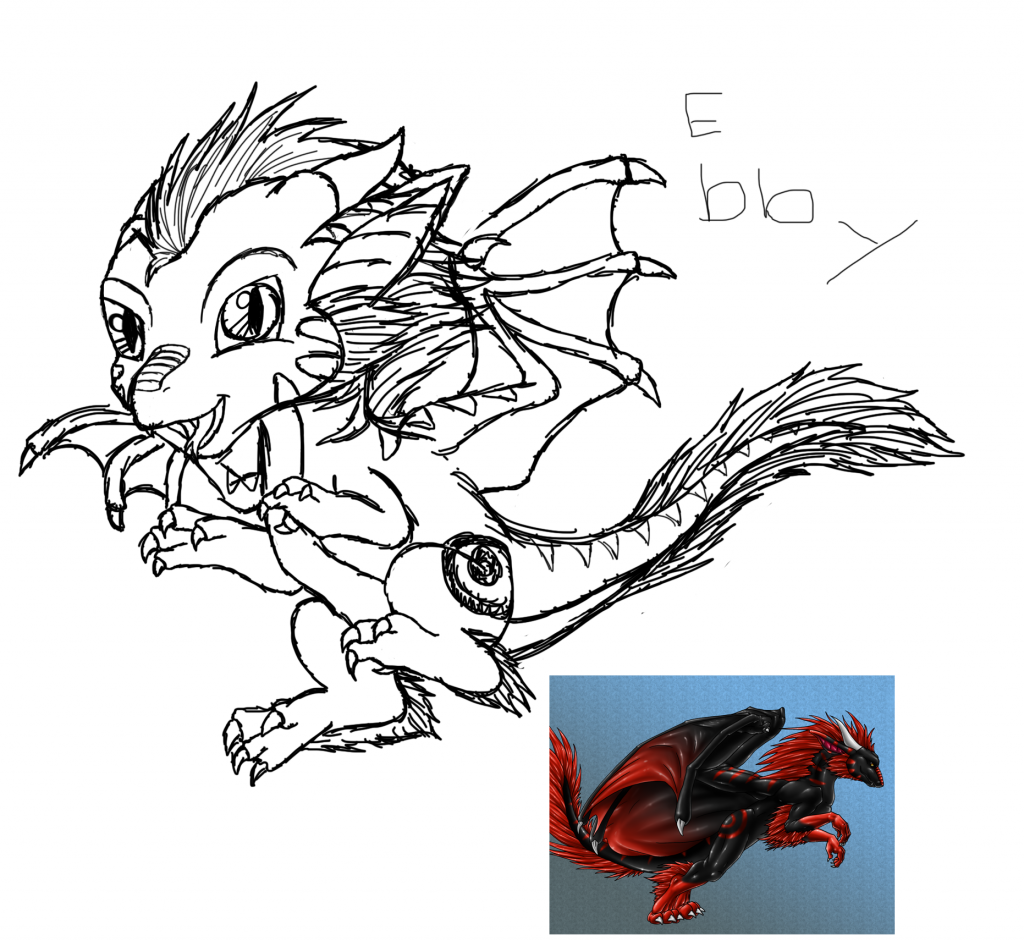 Edited by TankiSha, 05 April 2014 - 03:50 AM.