TankiSha
Member Since 24 Mar 2014
Offline
Last Active May 12 2014 07:00 PM
About Me
Welcome,
To My Profile
Name:
(Full Name):
Eboloncinni Rectule Ferenden Kilkerex Slickscale
(Nickname):
Ebby
------------------
Sex:
Male.
------------------
Age:
Hatchling.
Species:
Dragon.
------------------
Eye Color:
A Deep Swirling Golden that seems to shimmer, sparkle and glow with the hues of golden Coins.
Scale Color:
A beautiful shimmering pure Ebony Black for his Main Body Scales and a wondrous glittering Ruby Red for his Marking and Feet Scales.
Head/Neck Mane Color:
Red.
Back/Tail/Ankle Mane Color:
Red.
Markings:
Circles and Stripes.
Marking Color:
Red.
------------------
Breath:
Fire.
------------------
Physique:
Lean, Strong and rather Elegant looking.
------------------
Cutie Mark:
Not Applicable.
------------------
Residence:
Close to the Remains of his Egg Shell in Everfree Forrest.
------------------
Occupation:
Not Applicable.
------------------
Personality:
He is very Independent and Playful, very a deep running streak of being rather Spirited.
------------------
History:
In the first rays of the new dawn, deep in Everfree forest, an Egg shakes for a few moments before a crack appears in the delicate Shell. Shortly after that, the Egg breaks open to reveal the head of a beautiful Ebony Dragon with Ruby Red markings. The young Creature blinks in the bright light, writhing and wriggling his way out of his shell. His Mane and Ankle fur all Ruby Red, matching his Markings, flutter in the slight Breeze as he struggles to stand. He gains his balance, then cautiously takes his first steps in the world. Turning around to stare in wonder, taking in all the beauty of the Forest, he spots something on his Egg-Shell.. a name... His name.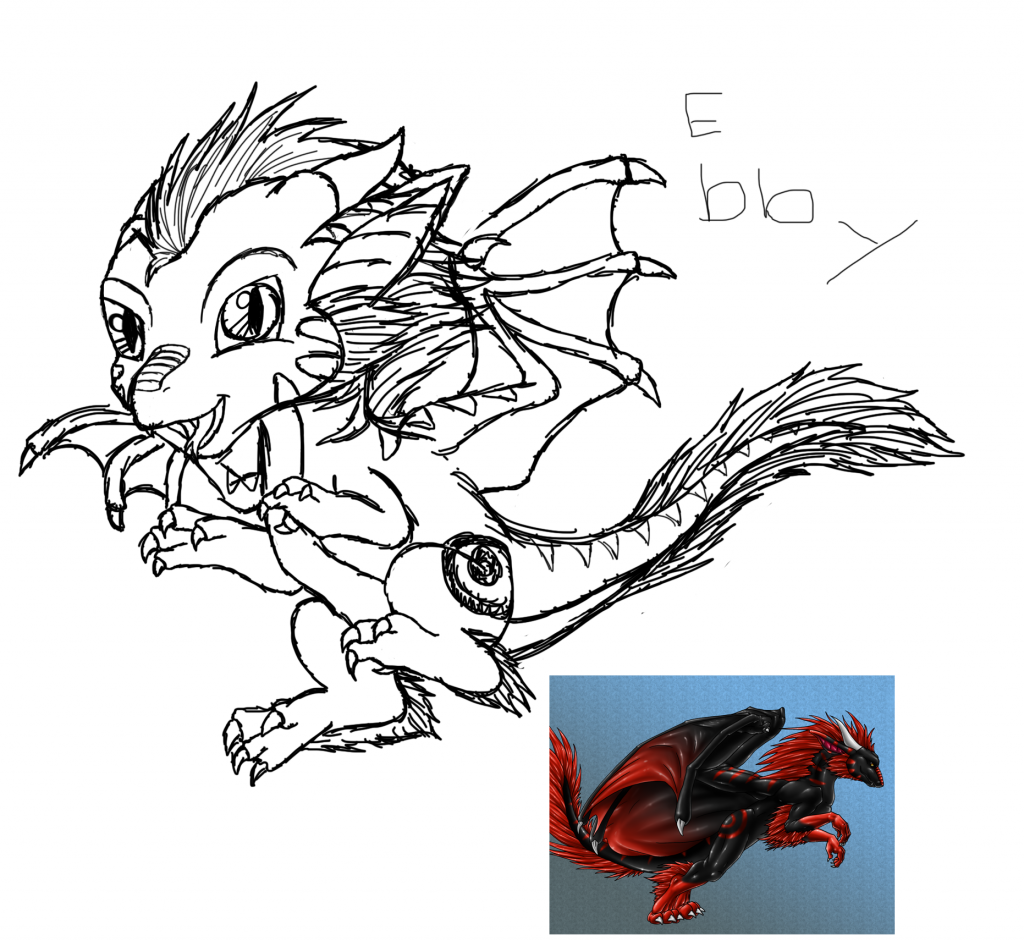 ---
Community Stats
Group

Roleplayer

Active Posts

94

Profile Views

6232

Member Title

Official Dragon Enthusiast

Birthday

April 27

Gender

Male

Location

The Skies High Above

Interests

Drawing, Etching, Sketching, Engraving, Painting, Dog Grooming, Dog Walking, Biking, Running, Jogging, Game Design, Skeletal Structures, Cooking, Baking, Gourmet Homemade Dog Treats, Sports of all kinds, Martial Arts


I also teach T-Styles, Am an Avid Book Writer, Manga Artist and have a Series in the works, but it has been put on hold for the moment due to Computer issues.
Viewing Profile: TankiSha